Rating:

3/5
Gayness:

3/5
Episode runtime: ~41 minutes
No. of seasons/episodes: 3 season (4th announced), ~13 episodes per season
Creator: Emily Andras
Actors: Melanie Scrofano, Shamier Anderson, Dominique Provost-Chalkley, Katherine Barrell, Michael Eklund, Greg Lawson
This part of the review is about season 1 of Wynonna Earp.
Wynonna Earp is a paranormal TV show that mixes the Western genre with a modern-day setting. Our titular heroine Wynonna (who should really be spelled with just one "n") is the great-great-granddaughter of Wyatt Earp and has a big gun to kill demons with when she's not cracking jokes.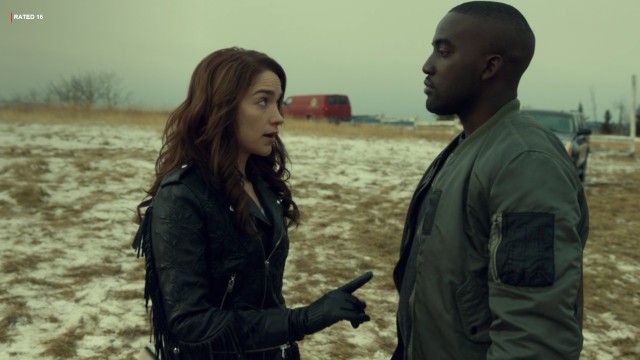 It's hard to watch this show and not immediately think of Buffy the Vampire Slayer – both are shows with a female lead who has the gift/curse to be able to slay demons. Neither of them really wants to fulfill their prophecy and both fire off one-liners as though their life depended on it. But where Buffy is camp and charming, Wynonna is trying too hard and falls flat.
If I hadn't been promised some LGBTQ content, I might not have made it past the pilot, but I watch these things for you, so you don't have to! Then again, my motto has always been "Never judge a show by its pilot." – and indeed, Wynonna Earp does get better. The one-liners get better. The characters become more likeable. Once we reached episode 5, I found myself wanting to know what happens next.
My biggest criticism of the show is that a lot of it simply doesn't make sense. Some of the conversations are cringeworthy, some characters are bad caricatures, the plot is often contrived and there is a lot of over-explaining going on. The show will mention things to you that happened two scenes ago, maybe because they're worried you missed them because you were bored and surfing the internet on your phone.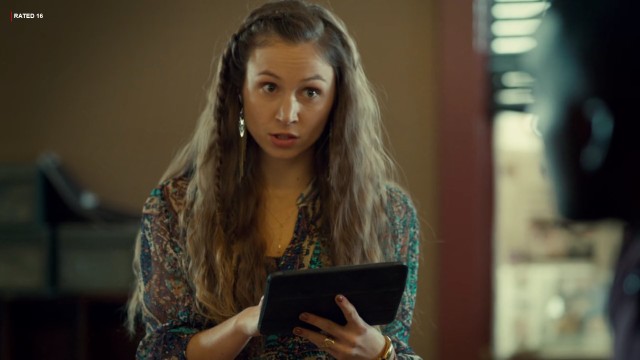 What I do like about the show is Dominique Provost-Chalkley as Wynonna's chirpy sister Waverly. (Maybe you know her from The Carmilla Movie.) Where Wynonna (played quite well by Melanie Scrofano) is abrasive, she's friendly and helpful. She's Wynonna's Willow character, essentially. And who didn't like Willow?
---
This might also interest you: Wynonna Earp Recap – Season 02, Episode 01 – "Steel Bars and Stone Walls"
---
There are also a bunch of guys in this show who are varying levels of annoying. Agent Dolls (played by Shamier Anderson) is possibly the least annoying of them as a special agent working with the Earps. Tim Rozon is Doc Holliday, a gunslinger from the past with a silly mustache who likes to go on and on and sadly has no off-button. And then there's Michael Eklund, who doesn't only have a big beard, but also a mohawk. He also likes to hear himself talk and he's evil. No off-button on him either.
Lastly, if you're mostly interested in the gay stuff, let me tell you that it is a very slow burn and only really heats up in episode 9 of the first season after much hinting. So if you're surfing the internet on your phone during the first 8 episodes, you really won't be missing much.
TLDR: Not a very well-written show that gets better halfway through the season.
This part of the review is about season 2 of Wynonna Earp.
After I didn't rate the first season of Wynonna Earp very highly, maybe it's odd I've decided to watch season 2 of the show – but my earlier assessment still stands: The show got better halfway through the first season and in season 2 it continues to find its voice.
Wynonna becomes more likeable through her struggles and through the relationship with her sister who she deeply cares for. Also, the side characters become much more interesting and three dimensional.
The plot, however, is still all over the place with more holes than Swiss cheese. But I suppose that's where the camp comes in: The show must know that its effects are a bit lame, the plot crazy and the one-liners fairly silly. But it goes on and it improves, slowly, steadily – much like in Buffy. So I ordered seasn 3 on DVD after all and now I can't wait to find out what happens next.
---
If you're interested in more about Wynonna Earp, you can find Wynonna Earp recaps for season 2 via the recaps index.
---