In recent years we've seen a lot of new lesbian TV shows, many of which are available streaming on Netflix right now. We've had a look, and here's what you could be watching right now.
Warrior Nun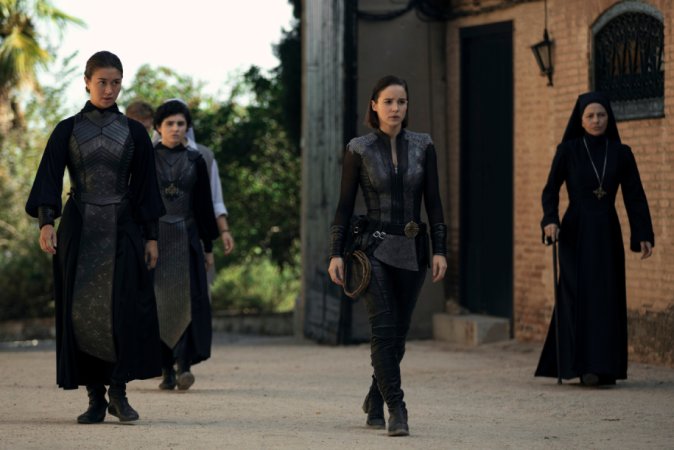 Gayness:

4/5
What is Warrior Nun?
Based on a comic book, Warrior Nun was adapted to a TV series by Netflix and first aired in July 2020. It follows Ava, a paraplegic orphan who is revived after death by a holy artifact – now able to walk and with unique powers. The artifact not originally meant for her belongs to a secret order of warrior nuns who fight against demons and other evil in the world.
Who is Warrior Nun for?
While Netflix cancelled the show after two seasons, it is well worth a watch, especially for anyone who enjoys a slow burn. While the friendship between Ava and one of the warrior nuns begins in season 1, there's a much bigger focus on it in season 2 – and the payoff is well worth it.
Some of the writing is a bit weak, but the many strong female characters and truly exceptional actresses more than make up for it.
Note
Warrior Nun has a good setup for a third season, but was cancelled after the second season by Netflix. This had a lot of fans very upset, but even after two seasons the plot and relationships are somewhat resolved. If you still feel you want more, check out some Warrior Nun fan fiction on AO3!
Atypical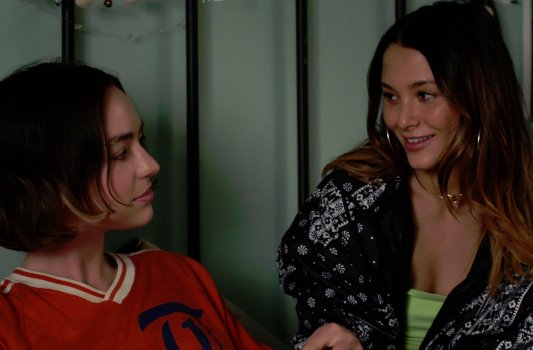 Gayness:

4/5 (from Season 3)
What is Atypical?
Atypical is a show about a young autistic boy (played by Keir Gilchrist) and his family. His protective sister Casey (played by Brigette Lundy-Paine) moves to a new school without him, which comes with its own challenges as she tries to make friends.
While Atypical got some criticism in the first season for inaccurately portraying autistic behaviors, later seasons were generally well acclaimed when they added autistic actors and writers to the show. With Brigette Lundy-Paine, they also have a non-binary actor, although Casey Gardner is a cisgender character.
Who is Atypical for?
The show is for anyone who likes to see realistic character development in a TV show. Casey evolves through the four seasons and her relationships are portrayed with a lot of depth, as are her struggles.
Atypical also has some wonderful support characters, and while many found Jennifer Jason Leigh in the role of the overprotective mother annoying, I thought she was a wonderful character who supported her children through their development. It's also still refreshing to see a show where the drama is not about being queer and trying to hide it.
Where's the gay at?
Atypical has four seasons, but the lesbian content essentially starts towards the end of Season 2 and then continues until the end. The two actresses have great chemistry, too, making their story a joy to watch.
Everything Sucks!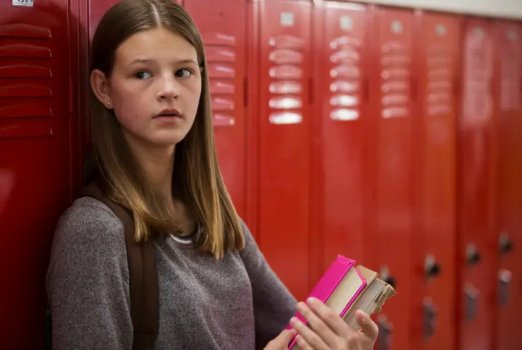 Gayness:

2/5
What is Everything Sucks?
Everything Sucks is a coming-of-age comedy-drama series that takes place in the 1990s and follows the lives of a group of high school students in the small town of Boring, Oregon. The show centers around two groups of friends: the AV Club, a group of nerdy outcasts who are obsessed with filming and creating movies, and the drama club, a group of more popular students who are rehearsing for a production of Our Town. The series explores themes of friendship, love, and self-discovery as the characters navigate the challenges of adolescence and try to find their place in the world.
Who is Everything Sucks for?
The show will appeal to anyone nostalgic for the 90ies and anyone who enjoys a slow coming-out story. The plot and acting aren't particularly memorable and overall the show is a bit forgettable. However, if you want a short, sweet show, its 10 half-hour episodes might be just what you're looking for.
Orange Is The New Black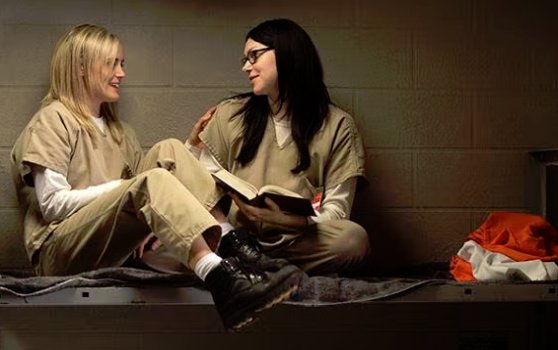 Gayness:
5/5
What is Orange Is The New Black?
Orange Is The New Black is a comedy-drama produced by Netflix in 2013. It spanned 7 seasons and eventually ended in 2019.
The show is very loosely based on the autobiography of Piper Kerman and tells the story of a woman named Piper Chapman who is sentenced to 15 months in a federal women's prison for a crime she committed a decade earlier. Although Piper is dating a man before she's shipped off to prison, she finds her ex-girlfriend and cause of all the drama in her life is in the same prison, and a lot of drama ensues.
The show explores the lives and relationships of the diverse group of inmates at the prison, and delves into the personal backstories and experiences of each character.
Who is Orange Is The New Black for?
The show is very gay, so anyone interested in tv shows with lesbian couples who likes interesting characters with a lot of depth can enjoy this. However, it's important to keep in mind that the show, while often comedic, also has a lot of tension and drama that is sometimes hard to watch. Think exploitative prison guards and sociopaths.
One Day At A Time
Gayness:

4/5
What is One Day At A Time?
One Day At A Time is a 2017 Netflix remake of a 1970ies show by the same name. It's a sitcom that follows the story of a Cuban-American family and their daily struggles and triumphs.
The show centers around Penelope, a recently separated, former military mother raising two children with the help of her traditional Cuban mother and her non-traditional, recovering alcoholic building manager. The show deals with issues such as immigration, mental health, and social justice, and features Isabella Gomez as Penelope's daughter Elena, a wonderfully over the top social justice warrior and feminist.
In Season 2, Elena gets a non-binary love interest.
Who is One Day At A Time for?
One Day At A Time is just an overall lovely, lighthearted show that never takes itself too seriously. So if you're interested in a silly sitcom, One Day At A Time can provide 3 seasons with 13 half-hour episodes each to fill that hole in your life.
First Kill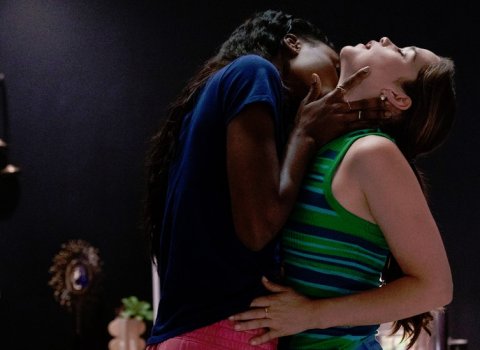 Gayness:
5/5
What is First Kill?
First Kill is a drama-series by Netflix that follows teenage vampire Juliette, who falls head-over-heals for teenage monster-hunter Calliope. One from a long line of vampires, one from a long line of monster hunters, they must navigate their feelings for each other as well as their hostile families who won't tolerate their relationship.
Who is First Kill for?
First Kill is first and foremost a show for young adults. The writing is iffy and the effects are terrible, but as many have pointed out: This is the kind of trashy young-adult TV that straight kids have had for ages.
The show certainly delivers in its lesbian content: It's fairly steamy and there's really nothing chaste about it. The lesbian romance is central to the plot and it's refreshing to see an interracial relationship represented. So if you're interested in a TV show with a lesbian couple at the center, this might be for you.
"Bury The Gay TV Show" trope
First Kill is another show about lesbian characters that got cancelled by Netflix despite good viewership (like Warrior Nun). The show was officially cancelled after the first season, and it ends at an unfortunate time with a bit of a cliffhanger. Unlike Warrior Nun, which ends at a somewhat positive note, First Kill ends with a lot of turmoil. If this is something that bothers you, best don't watch the show – or hope Netflix will rethink and produce a second season after all.
Gypsy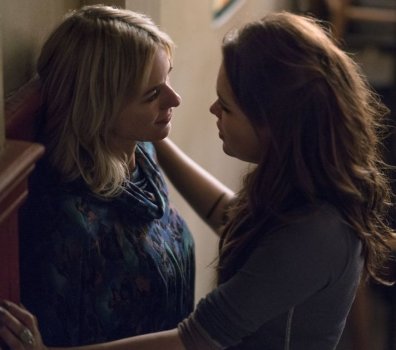 Gayness:
5/5
Gypsy is a psychological thriller series that produced by Netflix that aired in 2017. The show stars Naomi Watts as Jean Holloway, a therapist who begins to develop intimate and illicit relationships with the people in her patients' lives. As Jean's personal and professional lives become increasingly intertwined, she finds herself crossing boundaries and taking dangerous risks, leading to a web of deceit and danger.
What is Gypsy?
One of the professional boundaries she crosses is seeking out her patient's ex-girlfriend Sidney, who she ends up having an affair with. While this is only one of several subplots, it's intriguing to see how far they take it, with tension arising from Jean's infidelity to her husband and Sidney's desire to find out what's behind Jean's secrecy.
Who is Gypsy for?
Gypsy is for everyone who enjoys psychological thrillers and seeing people always at the verge of being found out. It can be stressful to watch, but there's undeniable chemistry between the two actresses. It's also interesting to see Naomi Watts as an older woman still playing a sexual character. Everyone who likes seeing a relationship between two women with a large age gap will likely enjoy this as well.
"Bury The Gay TV Show" trope
Here's another one for the list: Gypsy was also cancelled after just one season due to low ratings and negative reviews, even though a second season was already in development. Nevertheless the show has a satisfying if open ending, so if you're interested in the show, the fact that there's only one season shouldn't deter you.
I Am Not Okay With This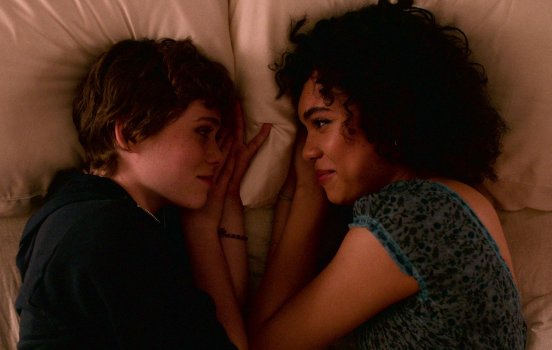 Gayness:

2/5
What is I Am Not Okay With This?
I Am Not Okay With This is a supernatural coming-of-age comedy-drama series released on Netflix in 2020. The show is based on the graphic novel of the same name and follows the story of a high school student named Sydney who is struggling to deal with the recent death of her father and the discovery of her supernatural powers.
As Sydney navigates the challenges of adolescence, she must also learn to control her powers and keep them a secret. And then there is Dina, her best-friend whom she is developing feelings for…
Who is I Am Not Okay With This for?
The show is for those who like teenage drama and supernatural TV shows. The romance here is central to the plot and Sophia Lillis, who plays Sydney, is a tomboy with the charms of a young Elliot Page. A lot of the romance is pining, though, there isn't a lot to actually see.
"Bury The Gay TV Show" trope
Do you see a pattern here? I Am Not Okay With This was cancelled by Netflix after just one season after initially renewing it. The reason given was "COVID-related circumstances", so it's possible this was an issue around availability of actors or whatnot. Either way, the show ends just when the show promises to start making sense. You won't leave with closure after watching this, so keep that in mind.
Orphan Black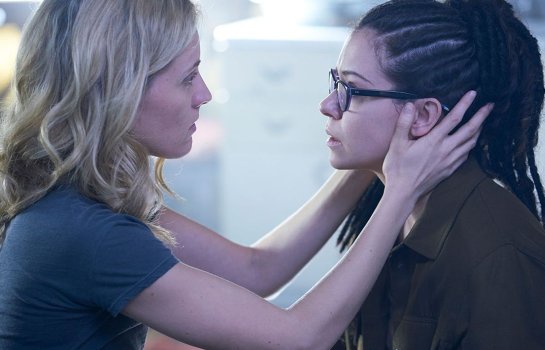 Gayness:

4/5
What is Orphan Black?
Orphan Black is a sci-fi show that was picked up for distribution by Netflix. It may have disappeared from Netflix for some countries, so best check this first before you get too excited about watching this. (Alternatively, you can buy it to stream on Amazon.)
The show stars Tatiana Maslany as Sarah Manning, a woman who becomes embroiled in a conspiracy involving a mysterious organization. I don't want to spoil too much of it, but Tatiana Maslany plays more than one role in the show and it's nothing short of amazing to see her completely disappear into her roles.
There is a lesbian storyline that spans through all five seasons and is worth a watch. The characters are interesting and have a lot of depth and they do get a lot of screen time.
Who is Orphan Black for?
The show has a lot of drama, is part thriller, and also comes with a dose of dark humor. I think most people will enjoy this show! (I'm a big fan.)
She-Ra and the Princesses of Power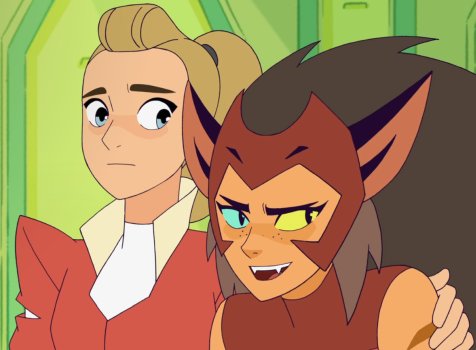 Gayness:

3/5
What is She-Ra and the Princesses of Power?
She-Ra and the Princesses of Power is an animated fantasy series released on Netflix in 2018. It's a remake of a 1980s animated show and follows a young woman named Adora. She and her friend Catra are orphans raised as soldiers by the Horde, but Catra discovers a magic sword that transforms her into the legendary warrior She-Ra.
Adora switches sides and joins forces with a group of other princesses to fight against the Horde and protect the kingdom of Etheria. Now she must come to terms with her own identity and learn to embrace her true power. It's a fun and action-packed show that promotes positive themes of friendship, teamwork, and self-acceptance.
Who is She-Ra and the Princesses of Power for?
While She-Ra is essentially a children's TV show, it's also a great show for anyone who's still young at heart. Apart from a very slow-burn romance across all five seasons, there are many diverse side characters – lesbian, gay, and even non-binary. I wholeheartedly recommend you watch this!
This is the kind of stuff I wish we'd had when I was young, and it'll be a good show for young people to grow up with. If you like Steven Universe, you'll probably like She-Ra as well.
Arcane: League of Legends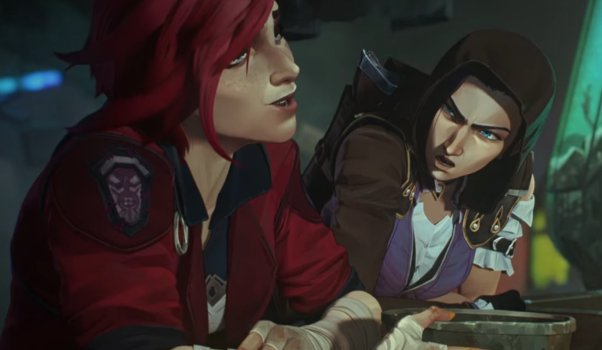 Gayness:
1/5
What is Arcane?
Arcane is an animated adventure-series on Netflix released in November 2021 and based on the video game League Of Legends. As the Netflix description goes: "Amid the stark discord of twin cities Piltover and Zaun, two sisters fight on rival sides of a war between magic technologies and clashing convictions."
It's a beautifully animated show with intriguing characters and a fascinating steampunk world. Two of the characters are Vi, a tomboyish woman who grew up in the seedy underbelly of town, and Caitlyn, who grew up privileged and rich in the nicest neighborhood. Needless to say their paths cross and they start caring for each other.
A word of warning, though: Season two is not out yet, and while everything points to a lesbian romance a the core of the show, there is nothing but subtext in season 1. It's still worth a watch!
Who is Arcane for?
Anyone who can appreciate the wonderful art style and who likes a pairing of a goody two-shoes with a rough, cynical tomboy. (You don't need to know or have played the League of Legends video game to enjoy the show.) As stated above, as of Season 1 the two are just friends, so if you want something a bit gayer, you might want to look elsewhere.
Supergirl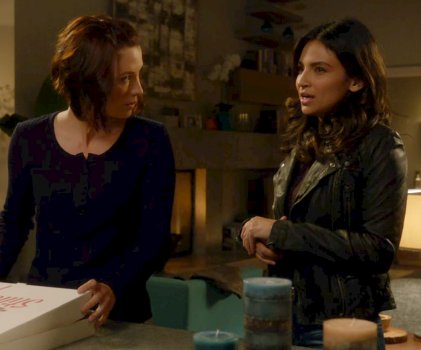 Gayness:

3/5
What is Supergirl?
Supergirl is a superhero action-drama series that aired on the CW network and later became available on Netflix. The show is based on the DC Comics character of the same name and follows the story of Kara Danvers (played by Melissa Benoist), a young woman with superpowers. She uses her powers to protect the city as the superhero Supergirl.
CW is not exactly known for the amazing quality of its shows, but Supergirl is quite entertaining if you go in accepting the writing is not always amazing. Melissa Benoist is incredibly charming in her role as Kara, and it is her sister Alex Danvers (played by Chyler Leigh) who ends up falling for a woman in Season 2 of the show. I thought her coming-out scene was very moving.
Apart from the actual lesbian romance in the show, there is also a lot of subtext between Kara Danvers and Lena Luthor, spawning hilarious YouTube videos and endless fanfiction on AO3 (their ship name is Supercorp).
Who is Supergirl for?
If you don't need all your lesbian shows to be super deep and brainy and you enjoy being entertained with silly jokes and campy effects, Supergirl might be right for you. There are six seasons of Supergirl and the lesbian content starts in season 2.
---
Did we miss anything? Know of any other great lesbian TV shows on Netflix we should check out? Let me know in the comments!