Valentine's day is a celebration of all love – and maybe a bit of capitalism – but what's nicer than taking the lady of your heart and cuddling under a blanket in front of the TV for some Netflix and chill? Nothing, that's what! And this is why we've collected the best romantic lesbian movies to watch on Valentine's Day!
Crush (2022)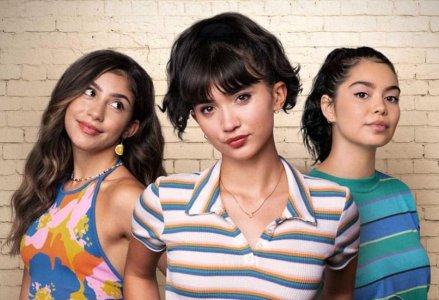 Crush is a refreshingly queer movie, where being gay is not a big deal. Parents are supportive, the kids at school seem to all be gay or bi (except the one straight couple who endlessly keeps making out on camera).
The plot is that of a happy-go-lucky coming-of-age story – a young artist in high school is dreaming of going to art school, but is forced against her will to join the track team. But who else is on the track team? The girl she's had a crush on for years – and her slightly intimidating sister, who is ordered to coach her.
As you may expect, things don't turn out as expected, but we're rewarded with a happy ending to a gentle movie without too much drama. If you're looking for mindless, lesbian entertainment on Valentine's Day, put this in your queue.
The Half Of It (2020)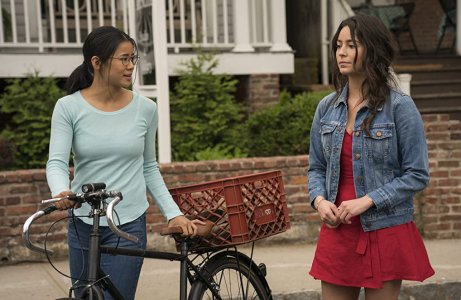 In this sweet and modern retelling of Cyrano de Bergerac, young Ellie Chu gets paid to help her classmate write love letters to a girl he likes – but unbeknownst to him, Ellie ends up liking the girl just as much.
The movie is well-acted, a bit slow, but full of interesting characters. It's about friendship, love, and family, and definitely the right feel-good movie for a romantic lesbian valentine's day.
D.E.B.S. (2004)
If you like your romantic with a large dose of silly, D.E.B.S. might be right for you. The overachiever of a secret government agency that trains girls as super agents meets the super-villain – and immediately falls for her. As you can imagine, this makes things quite complicated. While the villain Lucy Diamond (Jordana Brewster) starts pursuing the secret agent (Sara Foster), the agent tries to avoid her agency finding out.
The cheesy effects and funny script make this movie wonderfully campy, but the love story between the do-gooder and the not-so-evil villain makes this the perfect film for a romantic movie night.
Saving Face (2004)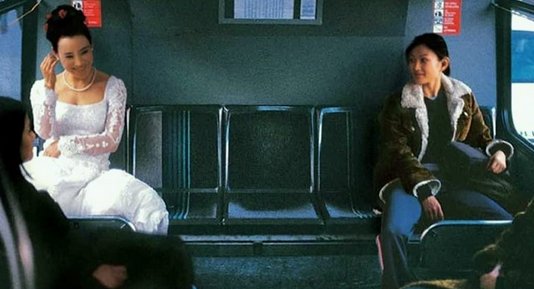 Another film by the same filmmaker who brought is The Half Of It, Saving Face is another sweet and romantic movie about two Chinese-American women falling for each other.
The story deals with cultural expectations, with being gay in the Chinese community, but it's not a heavy film by any means. It's again quite sweet with plenty of jokes. Not only is the daughter gay, but the mother, a widow, finds herself pregnant out of wedlock and ends up crashing at her daughter's apartment.
Some of the dialogue in the film is Chinese, so be prepared to read subtitles. This sweet romantic movie is certainly worth it, though.
Nina's Heavenly Delights (2006)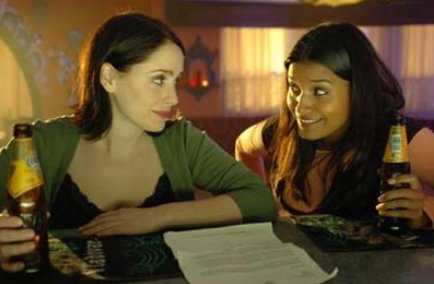 The title of this movie might put some people off, but Nina's Heavenly Delights is actually a film about a woman who takes over her father's curry restaurant in Scotland after he passes. She's gay but closeted, and ends up falling for a family friend who helps her with her endeavor.
The movie is sweet and magical and wonderfully acted by Shelley Conn (who later had a very sweet lesbian storyline in the UK show Mistresses) and Laura Fraser (who later was part of UK's answer to The L Word, the show Lip Service).
Consider this sweet movie with a happy end for your lesbian Valentine's Day, and if you do, consider ordering in some curry, as the food in the film might make you very hungry!
Imagine Me & You (2005)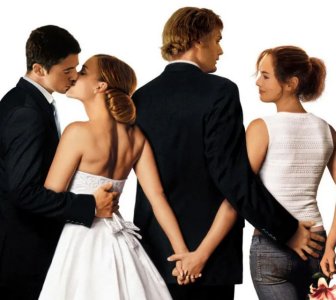 Another great British movie here: Imagine Me & You is about love at first sight, when a bride falls for the florist on her wedding day. The bride is Piper Perabo, known for the lesbian classic Lost and Delirious, which will not part of this list because it is too tragic for your Valentine's Day. However, Imagine Me & You is very sweet, despite the slightly upsetting premise.
The florist is played by Lena Headey, who you might know from a little-known show called Game of Thrones as Cersei Lannister. She's a lot more likeable in this sweet rom-com, though, which is another good choice for your Valentine's Day entertainment.
Black Mirror's San Junipero (2016)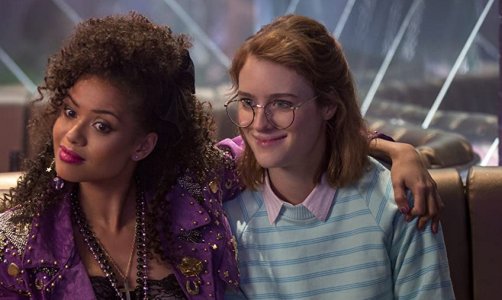 San Junipero is not a movie in itself, but a 1-hour episode of the mixed anthology TV show Black Mirror. It features Mackenzie Davis (of Happiest Season fame) and Gugu Mbatha-Raw (who was in The Morning Show). When they meet in the touristy beach town of San Junipero, the latter leaves a lasting impression on the former and she subsequently tries to reconnect.
It's more exciting than I make it sound, but it's best to know as little as possible about the episode before you watch it to enjoy it fully.
This will be a great watch for Valentine's Day, although there are some sad parts in the show, so you're in for an emotional ride. I definitely recommend this, though, even though the other episodes of the show weren't particularly memorable to me.
Puccini For Beginners (2006)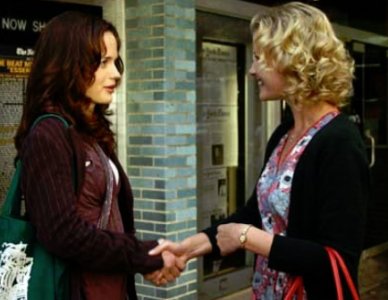 Maria Maggenti made two full-length lesbian movies since the 90ies, The Incredibly True Adventure of Two Girls in Love and Puccini For Beginners. Both are excellent with a nice dose of humor and come heartily recommended.
In Puccini For Beginners, made more than a decade after the other one, a New York writer (Elizabeth Reaser) finds herself single and starts dating a man and a woman at the same time – not realizing that they are actually a couple.
The show is about self-discovery and personal growth, and the script is quirky and fun. It's the perfect entertainment for an evening in front of the TV and also a nice rare example of bisexual representation.
The Incredibly True Adventure of Two Girls in Love (1995)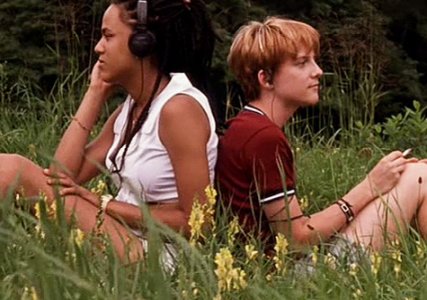 You knew I was going to list this one, right? The Incredibly True Adventure of Two Girls in Love is one of the first lesbian movies yours truly has seen and buy did it make me want to be just as cool as this young, butch Laurel Holloman.
The film is a high school romance of a rich African-American girl who grows up with her single mother and a poor queer girl growing up with lesbian aunts because her fundamentalist parents are not OK with her sexuality. When they meet, sparks fly, and they navigate their blossoming love as well as their friends' and family's expectations.
The movie was Laurel Holloman's screen debut, who famously went on the be Tina in The L Word, because she eventually quit acting entirely to be a full-time painter.
---
Found something that tickles your fancy? We hope so! Enjoy your Valentine's Day – or watch these all alone and imagine things to come!