Nancy is a WNYC Studios podcast hosted by best friends Tobin Low and Kathy Tu, both Asian American and both super gay, about the experience of being LGBTQ in the twenty-first century. It is heartfelt and funny, and after it launched in 2017, it quickly became one of the mainstays among my jogging/housework podcasts. (It helps that the episodes are generally a nice bite-sized half-hour long!)
One of the things I love about Nancy is its wide scope and variety. It goes from personal coming-out stories to interviews of famous people, to politics and everyday life as a queer person, to 90s pop culture. It also tries to be inclusive and covers a range of experiences across the LGBTQ spectrum.
Here are some of my favourite episodes:
*For some reason, they stopped numbering the episodes after #50.
As you can see, I tend towards the lesbian stories and pop culture episodes, but there is something here for everyone. The hosts Kathy and Tobin are funny, sometimes awkward, but always genuine. I highly recommend you check it out.
You can find the entire series here: https://www.wnycstudios.org/podcasts/nancy or via iTunes or other podcast services.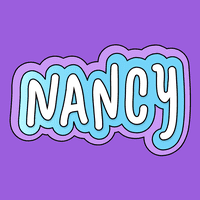 Note that Nancy is listener-supported, so if you like it and have the means, consider supporting them financially. <3
---